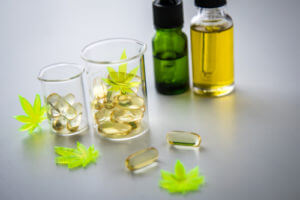 Diabetic neuropathy is a type of neuropathic pain resulting from damage to nerves due to very high levels of blood glucose levels. Elevated blood glucose levels can also lead to the collapsing of the walls of small blood vessels. The weakening of the walls can compromise the ability of the blood vessels to transport sugar, oxygen, and other nutrients that are important to nerve cells.
When nerve cells are compromised in this way, they stop communicating normally with our nervous system and due to this, people suffering from diabetic neuropathy will experience sharp pains or even complete numbness in some areas. This article focuses on a few commonly observed causes of diabetic neuropathy and how CBD for diabetic neuropathy can be beneficial.
Causes Of Diabetic Neuropathy 
There are many different types of diabetic neuropathy and as per the researches, the following can increase the chances of diabetic neuropathy.
Smoking: Smoking can result in arteriosclerosis, which can lead to the hardening of blood vessels and thereby decrease the flow of blood to the legs.
Improper maintenance: Improper maintenance of blood sugar levels raises the severity of the condition 
Increased Body Mass Index 
CBD For Diabetic Neuropathy 
There are no clinical trials available to confirm the effect of CBD in treating diabetic neuropathy. So, we cannot make any definitive conclusions on using CBD for diabetic neuropathy. The evidence available so far are from studies and research carried out on cultured nerve cells or animal models. Nevertheless, the role of CBD as an analgesic and a neuroprotectant is well known and documented. The government of the United States holds a patent on using cannabinoids like CBD as neuroprotectants to treat neurodegenerative diseases and limit neurological damage.
Final Thoughts On Using CBD For Neuropathic Pain 
As said above, no specific clinical trials have been performed to find the effectiveness of CBD in treating diabetic neuropathy. However, some studies suggest using CBD as a neuroprotectant and help in the management of neuropathy-related pain. However, before making any definitive claims on this, advanced clinical trials and FD approval are necessary.
So, can CBD be used for treating diabetic neuropathy? Is it effectual in easing nerve-related pain? As CBD is a neuroprotectant that can help prevent the degeneration and damage of neurons, it might be a good idea to use CBD products to treat diabetic neuropathy. Although before that, you need to discuss with your doctor regarding using CBD for diabetic neuropathy.