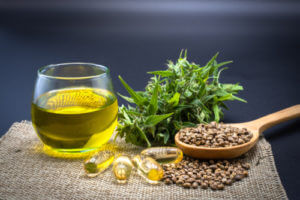 Among the hundreds of different cannabinoids found in the cannabis plant, the most researched cannabinoid is cannabidiol (CBD). Studies have found that CBD could help in alleviating a number of health disorders because of the numerous therapeutic properties it possesses.
CBD is a non-psychoactive cannabinoid, which means you won't get high when you use CBD. The psychoactive properties of CBD are associated with THC. In the United States, all CBD products that contain more than 0.3% THC are illegal.
In this article, we will take a look at how CBD helps in managing stress and the ways in which you can use CBD for alleviating stress.
CBD For Stress Relief
Many studies over the years have found that the use of CBD may help in improving your mental health by alleviating stress and anxiety disorders. Some recent studies have found that CBD is capable of interacting with CB1 cannabinoid receptors, serotonin 5-HT1A receptor, and several other receptors present in the brain that regulates anxiety-induced behavior.
Based on several clinical and laboratory studies, researchers have established that CBD is an effective natural remedy for anxiety disorders, like post-traumatic stress disorder, generalized anxiety disorder, obsessive-compulsive disorder, social anxiety disorder, and panic disorder. Today, millions of people are using different types of CBD products for alleviating these anxiety disorders.
Best Ways To Use CBD For Stress Relief
The first thing you should note is that the FDA has not yet approved the use of CBD for managing stress. Since hemp-derived CBD products are legal in the United States, you can use them for stress relief without the fear of being prosecuted. One recent study has found that taking 300-400 mg of CBD can reduce the symptoms of anxiety effectively.
However, the safe CBD dosage may differ from person to person depending on a variety of factors, including bodyweight, method of consumption, CBD concentration, body chemistry, etc. Some of the common CBD administration methods are CBD edibles, CBD tinctures, CBD vape oil, CBD topicals, etc. Topical CBD products are usually not used for managing stress.
If you need immediate relief from stress or anxiety, the best way to ensure it is by taking CBD tinctures or by vaping CBD oil. When you use CBD tinctures, CBD will enter the bloodstream quickly and you will experience the effects of CBD immediately.