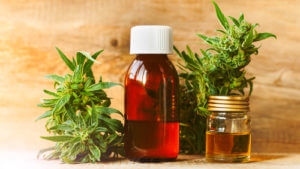 CBD is creating history everywhere. It has made its way up and is now found in mascaras to ice creams. Despite not much research being done on the topic, CBD is trusted and used by many. Manufacturers are realizing the benefits of CBD and fast incorporating it into their products so that they do not fall behind in the market. The number of CBD products made and sold is so much that the CBD market is said to be worth $20 billion by the end of 2024.
Being the bigshot, everyone knows about CBD. You might already know that it is obtained from a cannabis plant named hemp. You might also know about the different types of CBD, full-spectrum, broad-spectrum, and isolate CBD. The main difference between these spectrums is the amount of CBD and other compounds present in them.
Full-spectrum CBD includes all cannabinoids, terpenes, and other organic compounds, and isolate CBD contains only CBD. Broad-spectrum CBD like full-spectrum CBD includes all organic compounds, except THC.
The presence of other compounds along with CBD gives scope to the entourage effect. But, that is not the only benefit of the mixture. Terpenes have amazing quality. They smell heavenly. These organic compounds are known for their aromatic and therapeutic properties.
CBD Infused Perfumes
You might think CBD perfumes smell like weed, or probably terpenes. But you will never expect it to smell floral, a little earthy that makes it perfect for all the seasons. It owes its fresh, greeny aroma to terpenes and its natural oil.
You will be amazed at how your CBD perfume smells like lavender or pine. What makes these perfumes better is that they are good for your body when absorbed. CBD can be absorbed through the skin and enters our bloodstream.
It might not be easy for the CBD to penetrate through the skin. However, the sprayed CBD can react with the endocannabinoid system of your skin and will help reduce skin disorders.
You should look out for brands that sell their products claiming to contain CBD. They might smell very similar to the original CBD perfumes.
Famous Brands You Should Try
Heretic Parfum
Dirty Glass CBD perfume is one of the best CBD-infused perfumes you will find. Each bottle of 50 milliliters perfume contains 500 milligrams of full-spectrum CBD. The perfume is an aromatic mixture of vetiver and CBD oil.
Golden Goddess CBD Perfume
This brand is specialized in CBD products. Its CBD perfumes include organic botanicals, CBD essential oil, and CBD extracts. These perfumes not only deliver the natural smell but also act as a transdermal medicine.