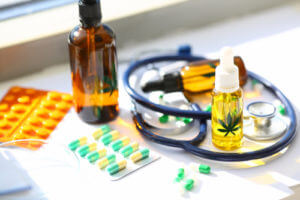 We know that pure CBD is creating a splash everywhere around. Even from traditional oils and doggie treats, CBD has created a powerful cultural impact. It is seen that CBD is available in all kinds of food products, and those who like these products are getting a good dose of healthful advantages.
Imagine how the CBD lovers would have felt when they heard one of the world's most popular ice cream company "Ben & Jerry's" say, "It's no surprise that, we have a tendency and we can't wait to get into the latest food trend: cannabidiol, or CBD. We are trying to make CBD-infused ice cream to your freezer as soon as it's legalized." So, why wait? Let us prepare our own CBD ice cream.
How To Prepare CBD Ice-Cream
Ingredients
Heavy cream- 2 cups (1 cup half-and-half)
Mild honey- 1/2 cup
Vanilla flavoring- 3 tablespoon
Large eggs- 2
Salt-  1/8 teaspoon
CBD isolate powder or full-spectrum hemp- 1/2 gram
Preparation
Prepare Honey
Place the honey into the double boiler and keep it on low heat and check the temperature. Make sure the temperature does not exceed 200 Fahrenheit. Stir the CBD powder properly until it is completely absorbed by the mixture. Switch off the flame and remove the mixture from the heat.
Prepare Your Ice Cream
To make the cream, pour half-and-half, vanilla flavoring, and honey into a saucepan. Heat it keeping the temperature at a moderate level and stir it continuously. Use a thermometer to make sure that the mixture is not burning. Turn off the flame, once the mixture is heated. Steep the mixture for 5 minutes and keep it covered for about 30 to 40 minutes. When the mixture is not hot, pour it through a finely-meshed sieve kept over a glass bowl. Transfer the remaining mixture from the saucepan to another pan and keep the flame in medium temperature until it is hot.
In a separate bowl, whisk the salt and eggs together. Then you can add the hot cream in a slow stream, whisking all the while. Move the eggs, salt, and cream from the container to a pan and heat over a low flame. Stir constantly till the mixture become thick enough and repeat this for a few minutes. Make sure to keep the mixture from boiling. And finally, remove the mixture from heat. Pour the mixture through the mesh sieve and into a small bowl. Let everything cool completely and stir continuously. Keep it in the fridge covered for a minimum of 5 hours, and ideally 24 hours.