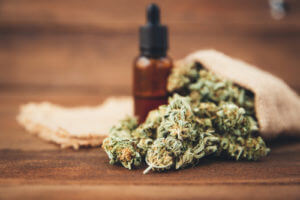 Cannabidiol is generally effective in treating many different health issues. That said, as with any other substance, it is important to utilize cannabidiol in a certain way to have the desired therapeutic effects from it. Many people are not ingesting it properly, which partly explains the polarizing response to CBD from customers. Many people swear by the therapeutic effects of the phytocannabinoid, but some claim that it does not do anything for them.
Several things play a part in how CBD makes you feel, including the amount of cannabidiol you ingest, your body chemistry, and weight. Botanical substances like it are likely to have a particular effect on some users that is different from others. This has something to do with the human body chemistry and the dosage. According to medical professionals who prescribe CBD goods to customers, those who say that cannabidiol is not working are ingesting a lower dosage most of the time.
How Much CBD Is Enough For Me?
It is no wonder, then, people ask this question. There is no such thing as the ultimate CBD dosage calculator because its dose usually varies from person to person. In the event you are not experiencing cannabidiol's effects, then you may not be taking a sufficiently high dose of it.
The thing with its dosage is that you will not absorb the same amount of cannabidiol as you use per serving. For instance, if you take 20 milligrams of cannabidiol, your body would only absorb a portion of the said dosage. This is the case with every phytocannabinoid, not just cannabidiol.
With an ingestible CBD product, the rate of absorption into the flowing blood is lower than expected because the phytocannabinoid is fat-soluble. Much of the cannabidiol in an oral-type CBD item will become waste as it travels through the digestive system to the bloodstream. Even when cannabidiol is absorbed as vapor, the same quantity as what you use per serving will not be available in your body. In the case of oral or ingestible CBD, the absorption rate is lower than with CBD used as a vapor.
The absorption rate means that the smaller the CBD dosage, the lower will be the chance of its effects to occur. The dosage also varies according to the condition you are planning to treat with CBD. For instance, the CBD dosage for anxiety will be slightly different from its dose for cancer.
What Does Research Reveal Regarding CBD Dosages?
For comparison, many grams of cannabidiol has been given to individuals involved in different pieces of research. For instance, in a recent double-blind study, 0.15 grams, 0.30, and 0.60 grams of cannabidiol were administered to 57 normal men before they were supposed to speak in front of audiences. Then, their heart rate, blood pressure levels, and mood were measured. As per the measures of these three factors, the people who got the 0.30-gram CBD dose had more stress-easing effects than the rest, before their speech. These findings are available in the so-called 'Brazilian Journal of Psychiatry'.
A different study of socially anxious teens in Japan discovered that the 0.30-gram dose for 4 consecutive weeks sufficed to reduce the issue of anxiety. Even so, every person will not require the above-mentioned dosage.
What Do Medical Professionals Say About The Doses?
Experienced medical professionals recommend ingesting a relatively low dosage of cannabidiol in the first few days of its use. According to them, a CBD dosage of 10-milligram is low enough. In the event of not experiencing any effect even after ingesting that much CBD for some days, the professionals recommend sticking to the dose for a little longer. They believe that doing this will result in a cumulative effect. In case you do not experience any difference despite sticking to it, you might have to increase the dosage.
The form of your CBD item will also play a part in the dose for you. For instance, a full-spectrum-type CBD product has the so-called entourage effect. This is the combined, more useful effect of every cannabinoid, flavonoid, and terpene. This form of CBD item might be more effective in treating your health condition than crystalline CBD, depending on what that issue is. For some health issues, the ingestion of cannabidiol alone might suffice. In the event you have one of these few issues, you might only need a lower concentration of cannabidiol crystals as compared to the full-spectrum product.
Negative secondary effects seldom happen even if you choose higher dosages of the cannabinoid. According to CBD prescribers, sedation is the most common side effect of the substance. There could also be a lower appetite and upset stomach, particularly in the event you use an oil-type CBD product. These CBD effects are usually related to the dosages of the compound. So, to be at the least risk of having its side effects, it is important to talk to a medical professional regarding CBD dosage.