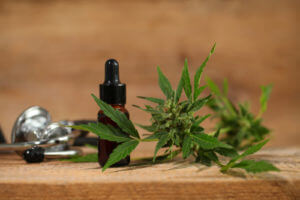 Cannabidiol (CBD) products are consumed by different methods to experience their therapeutic and health benefits. Some of them are vape oils, edibles, oils, pills, and capsules. Of these, vaping is very popular because of its quick onset time. This is because CBD directly enters the bloodstream through the highly permeable surface of the lungs. Also, there is the added advantage of increased bioavailability resulting in enhanced effects. However, this depends on the quality of the vape oil used for vaping. In this article, we will investigate the ingredients used for making CBD vape oil, read on to know more about them.
What Is CBD Vape Oil?
CBD vape oil is also known as CBD vape juice. It consists of mainly two ingredients CBD or hemp extracts and a carrier liquid. Besides, most brands offer flavored variants of it that contain flavoring agent(s). Moreover, CBD vape oil effects depend mainly on the ingredients used for making it. Also, keep in mind that low-quality products usually contain harmful ingredients that can harm your health.
CBD Vape Oil Ingredients
CBD Isolate Or Hemp Extract
CBD vape oil can be made by using CBD isolate or hemp extract. The former is 99% pure cannabidiol; it appears in the form of white crystalline powder. The latter contains CBD along with other cannabinoids and terpenes naturally found in the hemp plant; Full-spectrum products contain 0.3% psychotropic THC, while broad-spectrum products are further processed to remove THC.
Carrier Liquid
CBD isolate or hemp extract is mixed with carrier liquids to dissolve them; the ratio of these determines the property of CBD vape oil. Thinning agents are used to reduce the viscosity of the liquid so that it can be easily used in the vape pen. Listed below are the different liquids used in CBD vape oil.
Vegetable Glycerine (VG): VG is one of the main ingredients in vape oil or juice. It has the properties of oil and is a water-soluble liquid. Also, keep in mind that natural CBD is oil, and hence oil-based solvents increase its bioavailability.
Propylene Glycol (PG): PG is derived from petroleum, and it is similar to glycerine. Because of this, CBD easily dissolves in it, increasing its bioavailability. Also, it is water-soluble and acts like water. Moreover, it has a low freezing point, is odorless and colorless.
Medium Chain Triglyceride Oil (MCT): In some CBD vape oil, highly concentrated CBD liquid has MCT oil as the base. Furthermore, it is a highly refined form of coconut oil that is tasteless, clear, and odorless. So, it is edible and used in CBD oil capsules as well.
Triethyl Citrate: It is an alternative to MCT oil that is like glycerine in its chemical makeup.
We hope that the details shared above will help in your purchase of cannabidiol (CBD) vape oil and also aid in determining its quality.