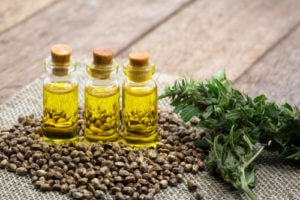 After the legalization of hemp-derived products in the United States, the demand for CBD products and hemp oil is on the rise. The main reason for the legalization of the hemp products is that the hemp contains many phytocannabinoids and other essential compounds that are beneficial for human health and also the amount of THC, the psychoactive cannabinoid, is very less in the hemp plant.
Hemp oil is made by cold pressing the seeds of the hemp plant. It is unrefined and green in color. The phytocannabinoid rich hemp oil is very beneficial in treating many health problems. Today, hemp oil has much demand in the skincare industry due to its ability to treat many skin problems and maintain skin health.
Benefits Of Hemp Oil On Your Skin
Controls Oil Production
One of the main advantages of hemp oil is that it can moisturize any type of skin without clogging the pores. It also helps to control the production of excess sebum, which can lead to the formation of acne. By controlling the dryness of the skin, hemp oil moderates oil production.
Treats Eczema
Hemp oil is also very beneficial in the treatment of eczema, or also known as atopic dermatitis. The omega-6 and omega-3 fatty acids present in the hemp oil very effectively control skin conditions like eczema.  One study has found that regular use of hempseed oil reduced the appearance and symptoms of eczema.
Reduce Inflammation
Inflammation on your skin can lead to skin problems. The gamma-linolenic acid, one of the omega-6 fatty acids, has anti-inflammatory properties that help in reducing the inflammation. The acid also encourages skin cell growth and generates new skin cells. This property is very helpful in controlling acne and psoriasis and keeps your skin nourished and moisturized.
Reduce Wrinkles
The hemp oil possesses anti-aging properties that help to reduce the fine lines and wrinkles. It prevents the development of aging signs. Linoleic acid and oleic acid have a crucial role in the anti-aging properties of hemp oil.
How To Use Hemp Oil?
There are several methods to use hemp oil to get its skin benefits. The most common method is topical use. Applying hemp oil directly to the skin ensures immediate relief from irritation or dry patches. If you are using hemp oil for treating acne, apply the oil directly on to the skin and leave it there for a couple of minutes.